Houston Public Works Press Release
Houston Public Works Hosts Treatment Plant Tour for Drinking Water Week
May 11, 2023
HOUSTON - Houston Public Works (HPW) welcomed members of the media to get a behind-the-scenes look at the Southeast Water Purification Plant (SEWPP) on Tuesday, May 9, 2023. HPW provides safe drinking water to 4.2 million customers in the Houston region.
Senior Division Manager, Ken Brown, guided local media partners through the operations, treatment and distribution process. The SEWPP is one of three HPW surface water treatment plants and distributes 200 million gallons of water daily.
The plant gets its water from the Trinity River via the Lynchburg Pumping Station through a 96-inch water line. The water goes through a three-stage treatment process that includes flocculation, sedimentation and filtration in large treatment basins. Federal and state-approved water treatment chemicals are added to various parts of the process to ensure the water meets all safety guidelines. The final product is stored in 13-million-gallon tanks before it's pumped out to the city water lines.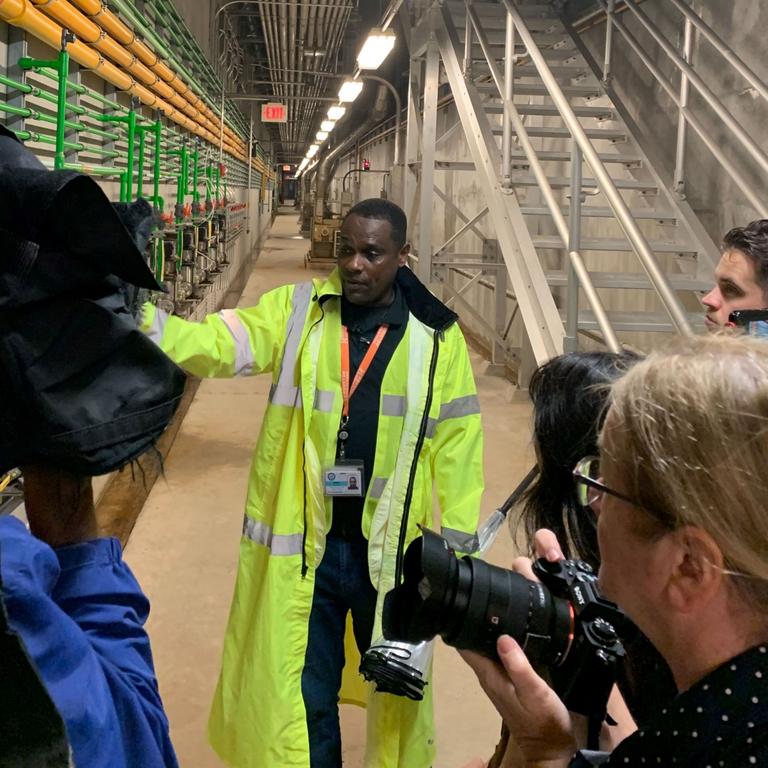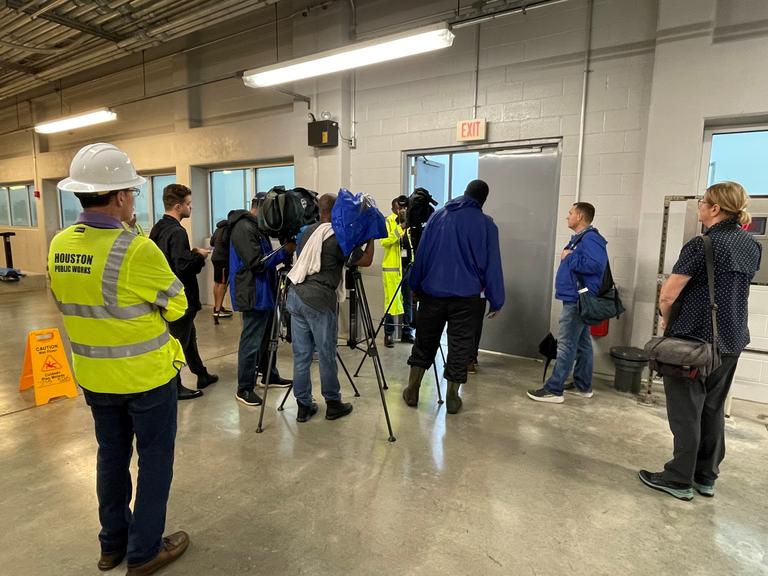 The SEWPP is owned in partnership with the City of Houston and 10 other member utilities along with four Sub-partners. The partners, known as Co-participants, include Baybrook MUD 1, Clear Brook City MUD, Clear Lake City Water Authority, City of Friendswood, City of La Porte, City of Pasadena, City of South Houston, City of Webster, Gulf Coast Water Authority, and Harris County MUD 55.  Non-member Sub-partners include City of League City, City of Pearland, City of Nassau Bay and NASA-Johnson Space Center.
The Co-participants share in the cost of operating and maintaining the plant. The City of Houston is the single largest stake holder and the managing participant with responsibilities including regulatory compliance, budget and financial management, permitting, Capital Improvement Projects (CIP) management, as well as operating and maintaining the plant. 
ABOUT HOUSTON PUBLIC WORKS
Houston Public Works (www.HoustonPublicWorks.org) is the largest and most diverse public works organization in the country, responsible for creating a strong foundation for Houston to thrive. Houston Public Works is responsible for streets and drainage, production and distribution of water, collection, and treatment of wastewater, and permitting and regulation of public and private construction covering a 671-square mile service area. Houston Public Works is accredited by the American Public Works Association.
Facebook, Twitter & Instagram: @HouPublicWorks
Media Contact
Katelynn Burns
Office of the Director - Communications
611 Walker St., Houston TX 77002
832.395.2455

Media Contact
Erin Jones
Office of the Director - Communications
611 Walker St., Houston TX 77002
713.853.6073